MEDICAL PEDICURE IN CHARLOTTE, NC
Complete Toenail Restoration at Our Foot Boutique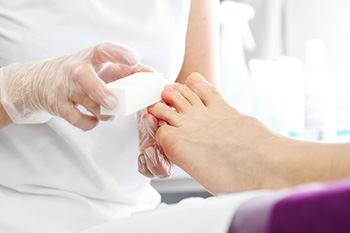 In addition to our numerous medical and surgical podiatric services, Charlotte Foot Care Associates also provides advanced nail treatments in our spa-like salon. While professional pedicures are a great way to pamper yourself after a long workweek, the risk of fungal and bacterial infections from regular nail salons and spas make our highly sterilized medical facility a safer choice. The services at our specialized boutique are often partnered with the podiatry treatments from our foot care team, so we are able to offer several options if you are looking for a medical pedicure in Charlotte, NC.
Give Your Feet the Care They Deserve
We recognize that many people are concerned about or embarrassed by the appearance of their feet, so the variety of cosmetic services at Charlotte Foot Care Associates are designed to help your feet look and feel their very best.  For example, one of our most popular treatments is our Gel Therapy Nail Restoration, which is a safe, flexible, and natural-looking application to restore the appearance of your toenails. Gel Therapy Nail Restoration delivers immediate cosmetic improvement by remodeling your nails that were affected by fungus or infection, damaged from injury or trauma, or impacted by necessary surgical treatment. 
Medical Pedicures In Charlotte Aren't Just About Aesthetics
While there are plenty of patients who enjoy a more spa-like salon experience with our luxurious pedicure chairs, whirlpools, and soothing foot massage, we know that other people – particular seniors and diabetic patients – prefer to stop by the salon on a regular basis to simply have their nails properly cut. Dr. Lu knows how important it is to educate all patients about the correct way to trim or cut toenails, because too often patients don't realize their at-home "bathroom surgery" efforts with their nails can lead to serious infections. This is especially true for patients with diabetes, who need to take extra care and precaution with regards to the healing of even minor cuts and skin abrasions.
Medical Pedicures in Charlotte, NC, Are Convenient & Affordable – Make Your Appointment Today!
Let us know what kind of foot care services you are looking for when you call 704-228-1350, or if you prefer, click here for our online appointment form.
As one of the area's premier podiatry practices in Charlotte, NC, Charlotte Foot Care Associates also provides superior medical nail salon services to patients from Steele Creek, Ballantyne & Pineville, NC, as well as Lake Wylie, Fort Mill & Tega Cay, SC.