MEDICAL SPA IN CHARLOTTE, NC, FOR TOENAIL TREATMENT
Enjoy Medical-Grade Nail Care at Charlotte Foot Care Associates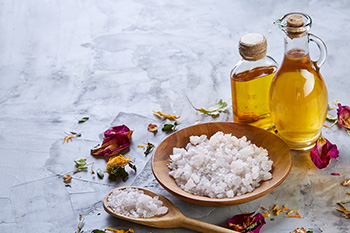 Our medical spa in Charlotte, NC, is designed to help our patients care for their toenails in a relaxed, spa-like atmosphere. For those seeking medical-quality pedicures or those with toenail issues, our expert team offers high-quality services in a sterile environment.
As we age, our toenails become thick and brittle. This can happen for a multitude of reasons, including onychomycosis (toenail fungus), psoriasis, diabetes, infections, traumas, and ingrown toenails. For many of our senior patients, thick toenails go unnoticed or untreated for years and can end up being painful and unsightly. That's why we offer our patients the toenail services they need in a setting that eliminates the risk of infection that can be found in traditional nail salons.
Standard Care
When our patients come to our medical nail spa, they can look forward to receiving the highest quality care in a welcoming and comfortable environment. Our standard procedure is to trim the toenails appropriately and add polish if desired. We use tools that are sterilized according to medical standards and the procedure is always performed by a podiatric medical assistant, to ensure quality results.
Advanced Care
We also offer advanced care with a complete spa experience. This includes the use of a luxurious Whirlpool pedicure chair, a foot massage, trimming toenails, and polishing if desired. Our patients can choose from a complete line of foot scrubs, lotions, and creams to continue the experience at home. We always go the extra mile to make you feel like royalty!
Revolutionary Restoration Methods
For those who need toenail restoration due to fungus, disease, or trauma, our medical nail spa in Charlotte, NC, is proud to offer nail restoration solutions that return toenails to their natural beauty. Toenail restoration services conceal and protect your nails after undergoing treatment to remove toenail fungus. The treatments are painless and sculpting a new, natural-looking nail onto your original. Call us today for more information!
Spa Policies
Your appointment will be guaranteed with your credit card number.
Your card will not be charged until service is provided. In fairness to our technicians who work by appointment, a 50% charge will be applied to all appointments cancelled less than 24 business hours before appointment, and a 100% charge will be applied for a no-show without prior notification to us.
Please plan to arrive a few minutes early — arriving more than 10 minutes late will usually require a rescheduled appointment.
Pamper Yourself at Our Medical Spa in Charlotte, NC, Today
Don't let your toenails keep you from enjoying your life – visit our medical nail spa today! Give our office a call at 704.228.1350 or click here to use our convenient online appointment form. Let our experienced staff pamper your feet and increase your self-confidence!
If you are a new patient and would like an evaluative appointment to have an overall checkup of your feet and ankles, we invite you to schedule your Greater Charlotte New Patient Exam. Your consultation with Dr. Lu includes a complete physical exam of all podiatry systems such as muscle strength, joints, foot structure, range of motion, arterial & vein systems, wound or rash assessment and a comprehensive skin analysis.  Come experience Charlotte Foot Care Associates and our 5-star-rated medical nail spa in Charlotte, NC – we can't wait to meet you!
As one of the area's premier podiatry practices in Charlotte, NC, Charlotte Foot Care Associates also provides 5-star-rated foot & ankle care to patients in Steele Creek, Ballantyne & Pineville, NC, as well as Lake Wylie, Fort Mill & Tega Cay, SC.