NERVE-RELATED FOOT CARE IN STEELE CREEK, NC
Get Back to Your Pain-Free Life at Charlotte Foot Care Associates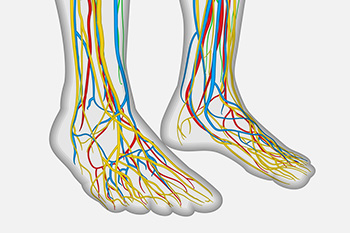 Charlotte Foot Care Associates is proud to be a trusted source for revolutionary neuroma treatment and nerve-related foot care. When the nerve tissue leading up to your toes grows or thickens excessively, it can result in a painful condition known as neuroma. Luckily, our award-winning specialist for foot care in Steele Creek, NC, offers compassionate, experienced podiatry treatment for your neuroma. Our team will restore you to your pain-free, mobile lifestyle once again!
Common Neuroma Symptoms
If you experience any of the following symptoms at home, we recommend that you schedule an exam as soon as possible. Neuromas do not go away on their own, and their symptoms can worsen over time. The sooner you see a foot doctor for your foot pain, the more likely it is that you'll be able to avoid surgery.
Common symptoms of a neuroma are:
Pain in your forefoot
Pain between your toes
Swelling between your toes
Tingling or numbness in the ball of your foot
Pain when you put weight on the ball of your foot
Ultimately, the best way to know if your foot pain is caused by a neuroma is to schedule an evaluation with our expert for foot care in Steele Creek, NC. After a thorough examination, our foot specialist will educate you about your condition and available treatment options.
Treatments for Neuroma
Typical treatment options include physical therapy, custom orthotics, cortisone injections, activity modifications, and using a metatarsal pad under the affected area of the foot. Some patients gain relief from a non-invasive, in-office nerve decompression procedure. Our podiatry expert uses a precision instrument to perform the procedure, which takes under ten minutes to complete. There is minimal down time experienced, and usually patients walk immediately after. In severe cases, surgery may be required to remove the neuroma. This is generally performed on an outpatient basis, with the patient able to wear their regular shoes 4-6 weeks following the procedure.
Schedule an Evaluation with Our Specialist for Foot Care in Steele Creek, NC, Today!
If you wish to seek help for your neuroma or other nerve-related foot issues, call us at 704-228-1350 or click here to use our convenient online form. If you are a new patient and would like an evaluative appointment to have an overall checkup of your feet and ankles, we invite you to schedule our our Greater Charlotte Foot & Ankle New Patient Exam. Your consultation with our specialist for foot care in Steele Creek, NC, Dr. Lu, includes a complete physical exam of all podiatry systems such as muscle strength, joints, foot structure, range of motion, arterial & vein systems, wound or rash assessment and a comprehensive skin analysis. 
Come experience Charlotte Foot Care Associates and our expert podiatry team – we can't wait to meet you and help you enjoy a pain-free life again!
As one of the area's premier podiatry practices in Charlotte, NC, Charlotte Foot Care Associates also provides 5-star-rated foot & ankle care to patients in Steele Creek, Ballantyne & Pineville, NC, as well as Lake Wylie, Fort Mill & Tega Cay, SC.