SPORTS PODIATRIST IN CHARLOTTE, NC
Get Back in the Game at Charlotte Foot Care Associates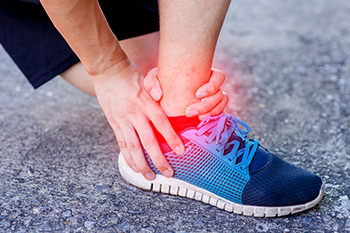 Sometimes there's an undeniable moment when you're pushing your body to its limits and you suddenly know that something has gone terribly wrong with your foot or ankle. Other times, pain may start small and worsen with time, leaving you packing your foot with ice and wondering if it's best to take a little time off from your favorite athletic activities. Whatever your sports-related injury may be, our sports podiatrist in Charlotte, NC, can help you get back on your feet and back into the game.
When you're serious about your athletic performance, you don't want to risk repeated injuries that could sideline you permanently. To ensure fast healing and prevent recurrent injury, have your foot or ankle promptly evaluated and treated by our expert at Charlotte Foot Care Associates.
Common Foot or Ankle Sports Injuries & How to Treat Them
Ankle Sprain – Some of the most common sports-related injuries we see are ankle sprains, which are especially common among runners. A sprain is typically an injury to one or more of the weight-bearing ligaments supporting your ankle joint, and often occurs when the foot rolls inward or outward while running. To diagnose a sprain, our expert podiatrist will conduct a thorough physical exam of your injured ankle, possibly including X-rays, CT scans, or MRIs to rule out a fracture, identify specific soft-tissue injuries, and provide a thorough explanation of your condition.
To speed healing of an ankle sprain, expect to begin a program of physical therapy to strengthen your muscles and control your pain and inflammation. You may also be treated with electrical nerve stimulation, ultrasound, a home exercise program, and ice. A simple air cast or ankle brace can provide added protection as you begin running again. In severe cases, surgical repair of torn ligaments may be necessary.
Stress Fracture – A metatarsal stress fracture is another common injury in running and in many other sports in which excessive stress is placed on the ball of the foot. Symptoms include pain and swelling in the ball of the foot when walking or when the area is pressed. Because stress fractures may not show up on X-rays for several weeks, it's important to see a podiatrist who can diagnose a fracture with a simple exam or by ordering a bone scan. Treatment may include rest, elevation, ice, a compression bandage, and a special shoe or cast to minimize stress and allow healing. As you get back to your normal athletic routine, you may also need a custom orthotic to prevent further injury to the area.
Turf Toe – Sports such as football, basketball, and soccer often result in injury to the big toe joint, because they are played on artificial surfaces. Called "turf toe," these injuries are usually caused by hyperextension of the toe that damages the soft tissues that support the toe from the top. Pain, tenderness, and swelling are common, and the injury can range from mild to a severe condition with black-and-blue discoloration, inability to bear weight, and major swelling. Without proper treatment and rest, turf toe can worsen, so it's wise to have any turf toe injury evaluated by our sports podiatrist in Charlotte, NC.
Foot and ankle injuries are also common in martial arts and kickboxing, due to the repetitive pivoting and elevation of the feet involved in these sports. Several types of injuries are possible, including plantar fasciitis, Achilles tendonitis, sesamoiditis, and ankle sprain. As a general rule, if a few days of rest and icing don't help, make an appointment with our sports podiatrist in Charlotte, NC.
Foot Injuries Can Turn into Chronic Conditions
Because many sports-related injuries can worsen or lead to recurrent injuries if not promptly evaluated and treated, always see a physician before returning to your normal exercise routine. Trust your sports injury to the specialists who can get you back in the game fast.
Schedule an Appointment with Our Sports Podiatrist in Charlotte, NC, Today
Give our office a call at 704-228-1350 or click here to use our convenient online appointment form. If you are a new patient and would like an evaluative appointment to have an overall checkup of your feet and ankles, we invite you to take advantage of our special offer and schedule your Greater Charlotte Foot & Ankle New Patient Exam. This consultation with Dr. Lu includes a complete physical exam of all podiatry systems, arterial & vein systems, wound or rash assessment, and a comprehensive skin analysis.
As one of the area's premier podiatry practices in Charlotte, NC, Charlotte Foot Care Associates also provides 5-star-rated foot & ankle care to patients in Steele Creek, Ballantyne & Pineville, NC, as well as Lake Wylie, Fort Mill & Tega Cay, SC.