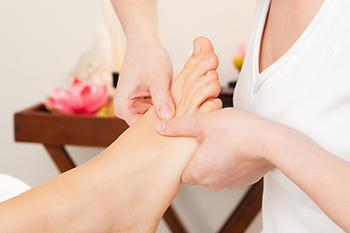 Our Steele Creek podiatry expert understands how spending a significant amount of time on your feet on a regular basis can leave them feeling tired and achy. With the busyness of everyday life, it's easy to overdo it and end up putting too much stress on your body. Many factors can contribute to achy feet, but it doesn't have to be something you experience daily. If you understand the causes, how to treat, and how to prevent achy feet, then you can provide yourself with some relief. Here are a few tips to help you keep your feet healthy and happy.
Our Steele Creek Podiatry Expert Says Don't Live with Achy Feet
Tip #1 – Soak Your Feet
It's hard to beat soothing tired muscles in a warm bath after a long day, so why should your feet be any different? Try soaking your achy feet in a basin of warm water to promote blood flow and help your muscles to relax. Increase your comfort level by adding Epsom salt to the water, which contains minerals that help ease muscle aches.
Tip #2 – Get a Massage
A foot massage is another great way to revitalize your feet. There are many products available for home use that can get the job done, but those with particularly sore feet can benefit from seeing a professional. When done correctly, a foot massage can relieve sore muscles, reduce your stress level, and improve your circulation. Our Steele Creek podiatry expert suggests exploring the many benefits of foot massage and how it can improve your overall quality of life.
Tip #3 – Check Your Shoes
One of the biggest contributors to sore feet are your shoes. Make sure you're wearing proper shoes for the activity you're doing. If you stand at work all day, you need a supportive shoe with the proper cushioning. If you're a runner or athlete, see a professional for a proper shoe fitting. Certain orthotics and shoe inserts can be helpful for some, so be sure to do adequate research before making a purchase, or contact our office for more information.
Our Steele Creek Podiatry Expert Can Help Your Achy Feet
Although many people experience achy feet on a regular basis, it doesn't have to be a normal part of your life. Follow these tips to gain relief from tired, achy feet at home. If the problem persists or worsens, schedule an appointment with our Steele Creek podiatry expert.
The information provided in this article is not meant to be medical advice and is for educational purposes only. If you would like to learn more about this and other podiatry-related topics, feel free to contact Charlotte Foot Care Associates, with a convenient podiatry office located near Steele Creek, NC, by click here or by calling 260.434.1133.