SPECIALIST FOR CLAW & HAMMERTOES IN CHARLOTTE, NC
Relieve Your Foot Pain with Help from Charlotte Foot Care Associates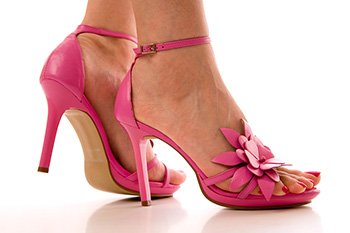 Our specialist for claw toes and hammertoes in Charlotte, NC, offers expert treatment for a variety of foot conditions and deformities. Foot deformities are often the result of genetics and can be exacerbated by wearing the wrong kinds of shoes, especially for women.
Women's footwear often includes pointy-toed high heels, which can create issues in the structure of the foot. Claw toes occur when when the toe joints closest to your ankle point up, whereas hammertoes result in toes that curl or bend downward, instead of pointing forward. These deformities can cause the joints of your toes to rub uncomfortably against the inside of your shoe. When the condition progresses, your toes may become stiff and inflexible. If you suspect that you have or may be developing claw toes or hammertoes, we can help you with treatment and advice on shoes that may be better for your particular foot structure.
What Causes Hammertoe and Claw Toe?
At Charlotte Foot Care Associates, we don't want to just treat your foot problems; we want to educate you. Knowing more about the source of your foot pain is empowering, and it allows you to choose a treatment plan that is right for you.
A toe begins to curl in when the muscles contract. This contraction of the muscle can be caused by many things, but the most common causes of hammertoes and claw toes are:
Frequent wearing of high-heeled or narrow-toed shoes
A foot structure issue present since birth
Rheumatoid arthritis
Stroke, cerebral palsy, or degenerative disc disease
Being bedridden for a long period of time
A lack of feeling in your feet, often caused by diabetes
Injury to your toe such as a break, dislocation, or jam
Get Treatment from Our Specialist for Claw Toes & Hammertoes in Charlotte, NC
No matter the cause of your painfully tight toes, our expert podiatrist is ready and able to create a custom hammertoe or claw toe treatment plan suited to your unique needs. Our goal is to address the root cause of your pain and make that pain stop forever. We are only satisfied when your feet are pain-free.
Treatment options for hammertoes depend on what caused the condition, but generally the pain from hammertoes can be mitigated by switching the patient to more comfortable shoes, encouraging the use of pads or custom insoles that prevent friction, realigning the afflicted toes using splints or pads, and applying over-the-counter creams that provide relief from pain associated with corns, blisters, or calluses. In severe cases, our podiatry expert may recommend surgical correction.
If you have a foot deformity and would like to seek treatment, call our Charlotte podiatry office at 704-228-1350 or click here to schedule an appointment with our specialist for claw toes and hammertoes in Charlotte, NC. Our podiatrist and staff are always ready to help our patients put their best foot forward!
As one of the area's premier podiatry practices in Charlotte, NC, Charlotte Foot Care Associates also provides 5-star-rated foot & ankle care to patients in Steele Creek, Ballantyne & Pineville, NC, as well as Lake Wylie, Fort Mill & Tega Cay, SC.