TREATMENT FOR INGROWN TOENAILS IN CHARLOTTE, NC
Do You Need to See a Podiatrist for an Ingrown Toenail?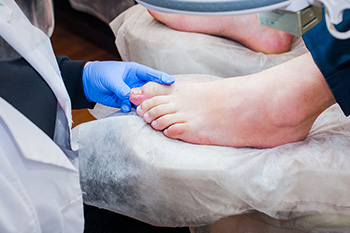 Often an ingrown toenail may not be a big deal, but under certain circumstances, it can become a very big deal. In fact, if left untreated and allowed to grow and embed itself further into your toe, an ingrown toenail can result in more serious complications, especially for patients who have diabetes. Even if you don't have diabetes, however, an ingrown toenail can be extremely uncomfortable and even eventually affect your gait.
In some cases, trying simple home treatments such as a warm water soak may be all you need. However, if you've tried home remedies for your ingrown toenail and they haven't worked, your best option is to seek treatment with our foot specialist as soon as possible to avoid further pain and potential complications. Regardless, we don't think you should walk around with any type of foot pain, so we encourage patients to visit us for in-office treatment for ingrown toenails in Charlotte, NC.
Why Do You Get Ingrown Toenails?
Usually, your big toe is the one most likely to experience an ingrown toenail. Charlotte Foot Care Associates suggests that some reasons include…
Your footwear – especially wearing tight or pointy shoe fashions that crowd your toenails
Improperly cutting your toenails – either too short, not straight across, or using the wrong type of instrument
Injury to your toenail – often seen in athletes or with activities like hiking
Natural shape of your nails – such as having unusually curved toenails
Get Relief with Treatment for Ingrown Toenails in Charlotte, NC, Today!
If you have a painful ingrown toenail, give our office a call or click here for our online appointment form. We also invite you to take advantage of our Greater Charlotte Foot & Ankle New Patient Exam Special. Your consultation with Dr. Lu is a comprehensive physical exam of all podiatry systems including…
Complete Skin Analysis
Muscle & Skeletal Exam – assesses muscle strength, joints, foot structure, and range of motion
Dermatology Exam – checks wounds, rashes
Neurological Exam – looks for nerve-related foot issues
Vascular Exam – evaluates circulation of arterial and vein systems
Stop by Charlotte Foot Care Associates & Check Out Our Beautiful Medical Nail Spa!
If you are interested in having a professional nail trim (especially recommended as part of routine diabetic foot care,) call 704.228.1350 to make your appointment today. Patients tell us they especially enjoy visiting our medical nail spa after a routine podiatry appointment, and we think you will, too. Come see why Charlotte Foot Care is a favorite place for podiatry services throughout the greater Charlotte area – and beyond!
As one of the area's premier podiatry practices for ingrown toenail treatment in Charlotte, NC, Charlotte Foot Care Associates also provides comprehensive foot & ankle care to patients in Steele Creek, Ballantyne & Pineville, NC, as well as Lake Wylie, Fort Mill & Tega Cay, SC.