STEELE CREEK PODIATRIST FOR SKIN CONDITIONS
Charlotte Foot Care Associates for Proper Diagnosis & Treatment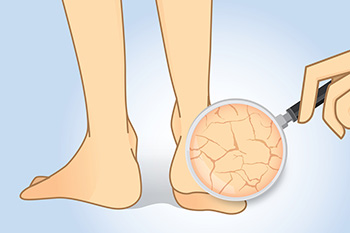 Our Steele Creek podiatrist treats a variety of skin conditions affecting the foot. Some common skin problems include…
Dermatitis – inflammation of the skin, possibly from contact with a substance that caused an allergic reaction, such as lotions, poison ivy or certain medications
Callouses – thickened areas of skin on the bottom of your feet
Corns – thickened outer layer of skin on the tops of your toes
Fungus, or athlete's foot – often grows between your toes as a result of warm, damp environments like locker rooms or from wearing sweaty socks
Ingrown toenails – the corner of your toenail becomes embedded in the surrounding skin.
Warts – caused by a viral infection and can form in clusters if left untreated
Abscesses –pus deposits under the skin due to a bacterial infection
At our Charlotte Foot Care Associates, our patients receive the most up-to-date treatments for any foot or ankle condition. Whether you have a simple skin condition such as a wart or a more complex skin problem that requires multiple appointments, our Steele Creek foot doctor will make every effort to solve your problem quickly and efficiently.
Not Sure What Your Feet Need? Take Advantage of Our Special Greater Charlotte Foot & Ankle New Patient Exam with our Steele Creek Podiatrist
Our podiatry team prides itself on providing high quality foot care in a friendly, caring environment at our state-of-the-art facility. Your consultation with Dr. Lu includes a complete physical exam of all podiatry systems such as muscle strength, joints, foot structure, range of motion, arterial and vein systems, wound or rash assessment, and a comprehensive skin analysis.
Come discover the premier podiatry treatment available at Charlotte Foot Care Associates and see why our satisfied patients consistently refer their friends and family. We always strive to make your visit to our trusted podiatrist in Steele Creek as enjoyable as possible. Make your appointment with our practice today, by 704-228-1350 or use our online appointment request form by clicking here.
As one of the area's premier podiatry practices near Steele Creek, NC, Charlotte Foot Care Associates also provides 5-star-rated foot & ankle care to patients from Charlotte, Ballantyne & Pineville, NC, as well as Lake Wylie, Fort Mill & Tega Cay, SC.