ABOUT OUR CHARLOTTE PODIATRY OFFICE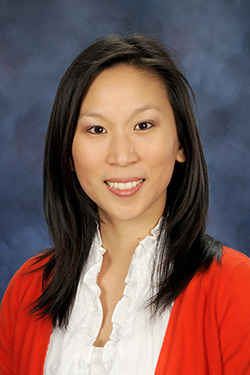 Foot & Ankle Specialist, Dr. Lu, DPM
I often get asked how I got into podiatry. I was in my senior year of undergraduate studies at The University of North Carolina at Chapel Hill when I spent my spring break at an Indian reservation in Zuni, New Mexico for my senior research project. It was there that I met a podiatrist whom I admired for her role in the community – with diabetes being one of the most prevalent ailments among the native American population, this doctor was actively helping to bring healing and relief for the many foot problems that diabetics can encounter. I shadowed several podiatrists in their work, and I knew that this is the career I wanted to pursue. I went on to complete my four years of Podiatric medical school and three years of residency to become a podiatrist fully qualified to perform foot and ankle surgery and other treatments.
I live in Charlotte with my wiener dog, Stewie, who has become Charlotte Foot Care Associates' mascot. We enjoy hiking the outdoors and camping, but curling up on the couch and reading a good book is another pastime when we are not out and about. Stewie also loves taking long walks around the neighborhood, often with two or three other dogs who are his playmates.
I am glad to be in my hometown of Charlotte where I can help improve the quality of my patients' lives by working to ensure that their feet stay healthy and pain free. Podiatry is a fun yet challenging and exciting field, and through continuing medical education, I stay up to date on the latest and most advanced treatment options available to my patients.
Education & Training
University of North Carolina at Chapel Hill – Bachelor of Science in Radiologic Science
Temple University School of Podiatric Medicine – Doctor of Podiatric Medicine
St. Luke's University Hospital & Health Network, Allentown, PA – Podiatric Medicine & Surgery Residency
Professional Affiliations
Dr. Lu's Specialty Areas
General Foot Care
Preventive Medicine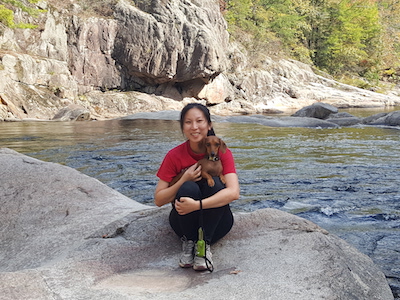 Schedule Your Appointment with Our Charlotte, NC, Podiatrist Today
Charlotte Foot Care Associates invites you to take advantage of our special Greater Charlotte Foot & Ankle New Patient Exam. Your consultation with Dr. Lu includes a complete physical exam of podiatry systems:
Muscle & Skeletal Exam – assesses muscle strength, joints, foot structure, and range of motion
Dermatology Exam – checks wounds, rashes
Neurological Exam – looks for nerve-related foot issues
Vascular Exam – evaluates circulation of arterial and vein systems
Comprehensive Skin Analysis
As one of area's premier podiatry practices Charlotte Foot Care Associates also provides exceptional foot & ankle care to patients in Steele Creek, Ballantyne & Pineville, NC, as well as Lake Wylie, Fort Mill & Tega Cay, SC.