ARTHRITIS FOOT CARE IN CHARLOTTE NC
Find Pain Relief & Restore Your Mobility at Charlotte Foot Care Associates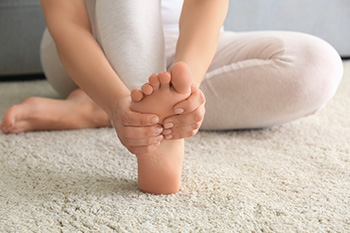 Thanks to state-of-the-art technology and the extensive experience of our specialist for arthritis foot care in Charlotte, NC, we offer 5-star-rated arthritis treatment. There are many different causes of arthritis – the most common for feet are Osteoarthritis and Rheumatoid Arthritis. Treatment for both types is available at Charlotte Foot Care Associates.
What Is Osteoarthritis?
Osteoarthritis goes by a few different names, including degenerative joint disease and degenerative arthritis. Whatever you choose to call it, you are not alone if you suffer from osteoarthritis in your feet and other areas. Approximately 27 million Americans live with osteoarthritis every day. This chronic condition causes the cartilage in your joints to break down, causing pain and inhibiting a joint's ability to move. The most common part of the foot to be afflicted by this condition is the big toe.
What Is Rheumatoid Arthritis?
Rheumatoid arthritis is an autoimmune disease that causes your body to mistakenly attack your joints in the same way it would fight off an infection. This causes inflammation in your joints that inhibits their mobility. If not treated, the inflammation can eventually cause the cartilage in your joints to break down, causing significant pain and further inhibiting your mobility. Rheumatoid arthritis, which afflicts approximately 1.5 million Americans, can affect more than your joints, and it is important that you seek treatment right away if you believe you suffer from this condition.
Call Our Foot Specialist for Arthritis Foot Care in Charlotte, NC, Today!
Don't suffer with your foot pain a second longer! Give our office a call 704-228-1350 or click here to use our convenient online appointment form. If you are a new patient and would like an evaluative appointment to have an overall checkup of your feet and ankles, we invite you to schedule your Greater Charlotte Foot & Ankle New Patient Exam. Your consultation with Dr. Lu includes a complete physical exam of all podiatry systems such as muscle strength, joints, foot structure, range of motion, arterial & vein systems, wound or rash assessment and a comprehensive skin analysis. 
Come experience Charlotte Foot Care Associates and our 5-star-rated podiatrist for arthritis foot care in Charlotte, NC. You will quickly see we deliver unmatched service and quality care to all our patients – and we do it with a smile!
As one of the area's premier podiatry practices in Charlotte, NC, Charlotte Foot Care Associates also provides 5-star-rated foot & ankle care to patients in Steele Creek, Ballantyne & Pineville, NC, as well as Lake Wylie, Fort Mill & Tega Cay, SC.