TOENAIL FUNGUS TREATMENT IN CHARLOTTE, NC
Do You Have Unsightly Discolored Nails? Charlotte Foot Care Associates Can Help!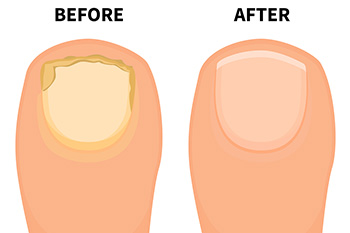 You may have noticed a yellow or white spot under your fingernail – or more commonly – your toenail. The nail or nails may appear thicker, as well as brittle or broken around the edges. You may also see dark spots on the nail, or even an odor. Nail fungus is also known as onychomycosis. As the fungus spreads, your toenails can become thickened and discolored. This fungal infection can also spread to your skin as athlete's foot. For fast, effective toenail fungus treatment in Charlotte, NC, make an appointment to have your feet evaluated by our expert podiatrist at Charlotte Foot Care Associates.
What Causes Toenail Fungus Infections?
While many types of yeasts, molds, and fungi can give rise to an infection, the most common type is dermatophyte, which affects hair and skin as well. Some of the risk factors include…
Age – Older adults are more susceptible to fungus infections, due to the reduced blood flow that comes with the aging process.
Excess Moisture – Heavily used communal areas like locker rooms, pools, and gyms are places where fungus grows and thrives.
Certain Medical Conditions – Diabetes, psoriasis, weakened immune system, or circulation disorders make people more prone to getting fungal infections.
Brittle Nails – Cracks in your nails can be an entry point for fungi.
How Can You Avoid Getting Toenail Fungus?
You might be familiar with the old saying "an ounce of prevention is worth a pound of cure." Our podiatry team couldn't agree more! You can decrease your susceptibility to contract toenail fungus when you consistently take the following precautions:
Choose breathable fabrics for both socks and footwear to prevent excess moisture buildup.
Wash your hands and feet daily – especially if you already have toenail fungus, as it can easily spread to your other nails.
Be sure to ask other nail salons about their sterilization techniques between clients.
Wear sandals when you use the gym showers or walk around the pool area or locker room.
Do You Need Toenail Fungus Treatment in Charlotte, NC?  Schedule Your Appointment with Our Specialist Today!
While toenail fungus infections are usually not serious, a more advanced case can be quite painful, as well as cause permanent damage to your nails or spread to other areas of the body. Charlotte Foot Care Associates can help you find relief. Surgery is always a last resort option, so we do our best to help you resolve your toenail fungus with one of our many other available treatment options.
If you find that your toenails are inflamed or your feet are experiencing any pain or discomfort at all, we highly recommend that you see our podiatrist as soon as possible. Speak to one of our friendly team members by calling 704-228-1350 or clicking here to for our online appointment request form.
As one of the area's premier podiatry practices in Charlotte, NC, Charlotte Foot Care Associates also provides 5-star-rated foot and ankle health care to patients in Steele Creek, Ballantyne & Pineville, NC, as well as Lake Wylie, Fort Mill & Tega Cay, SC.