DIABETIC FOOT CARE IN CHARLOTTE, NC
Regular Checkups Are a Must For Diabetics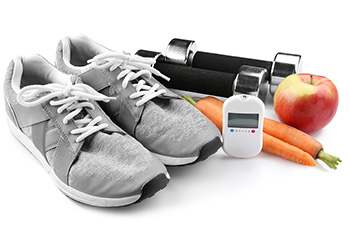 In addition to visiting our foot and ankle specialist for any ongoing podiatry issues, we highly recommend that diabetic patients be seen at least four times a year for diabetic foot care in Charlotte, NC. Being seen this often allows us to get to know your unique feet and spot any potential issues before they become a problem.
We Specialize in Diabetic Foot Care in Charlotte, NC
The biggest threat to the health of your feet if you have diabetes is allowing a small problem to become a big one. This is why we stress that your minor foot problem may be more serious than you might think. For many diabetics, the nerves of the feet do not function properly, which causes a loss of feeling in your feet. Because of the lack of feeling and possible poor blood flow, a common foot ailment like a cut or blister can easily become infected. In addition, even small cuts or scrapes on your skin may take much longer to heal, or not heal at all.
Prevention Plays an Important Role in Caring for Patients with Diabetes
Our Charlotte podiatrist is a skilled clinician for diabetic foot care who understands that prevention is the key to avoiding foot problems related to diabetes. Our foot care team will thoroughly examine your feet at each appointment, noting any changes in their condition and implementing a customized treatment plan designed specifically for your unique situation. Even if you yourself have not noticed any changes, it is important that you are seen by Charlotte Foot Care Associates for an evaluation on a regular basis.
Schedule an Appointment Today for Diabetic Foot Care in Charlotte, NC
As a diabetic patient, don't wait for your regularly scheduled check up if you experience any of the following conditions…
Nail fungus
Ingrown toenails
Blisters
Sores
Ulcers
Corns
Bunions
Hammertoes
Athletes foot
Dry, cracked skin
Cuts or scratches on the feet
Plantar warts
Possible bone fracture
If you are a new patient, take advantage of our Greater Charlotte Foot & Ankle New Patient Exam by CALLING OFFICE or CLICKING HERE. Your assessment will include a complete physical exam of all podiatry systems that are often affected by diabetes, such as muscle strength, nerve-related issues, circulation problems, and any unhealing skin abrasions or wounds. Call today for comprehensive diabetic foot care in Charlotte, NC!
As one of the area's premier podiatry practices in Charlotte, NC, Charlotte Foot Care Associates also provides specialty diabetic foot care to patients in Steele Creek, Ballantyne & Pineville, NC, as well as Lake Wylie, Fort Mill & Tega Cay, SC.