FOOT SPECIALIST IN STEELE CREEK, NC, FOR DIGITAL RADIOLOGY
Experience Cutting-Edge Diagnostics & Treatment at Charlotte Foot Care Associates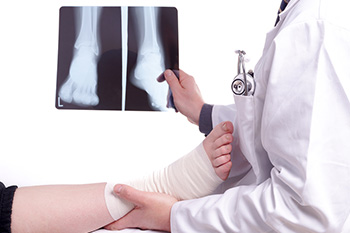 At Charlotte Foot Care Associates, our foot specialist in Steele Creek, NC, focuses on advanced modern-day medicine, making traditional x-ray imaging a thing of the past. Conventional X-ray imaging uses photographic film to produce images, but cutting-edge digital radiography uses sensors to scan the subject and produce an immediate image.
Many medical professionals prefer this method over the traditional method because it offers numerous advantages. Not only does digital radiography provide instant results, but it also allows the images to be digitally saved, transferred, and enhanced. In addition, less radiation is used to produce a digital image than with a conventional x-ray image.
Digital radiography bypasses traditional x-ray imaging by using a digital image capture device. This allows our foot specialist in Steele Creek, NC, to preview an image and immediately save, transfer, or enhance the image as needed. Another bonus is the elimination of expensive film and costly processing techniques. Digital radiography also offers a wider dynamic range, which produces higher quality images and reduces the chance of under or over-exposure.
State-of-the-Art Equipment
Charlotte Foot Care Associates is proud to offer our patents services using revolutionary equipment, like the PXS-710 from 20/20 Imaging, which offers the highest quality digital radiography available today. This made-in-the-USA machine was designed for excellence in imaging performance, including high resolution images, and quicker results. We believe in providing our patients with the best care and diagnostics available – it's all part of our commitment to you!
Schedule an Appointment with Our Foot Specialist in Steele Creek, NC, Today
If you or a loved one are experiencing foot or ankle pain, click here to use our convenient online appointment form or call 704-228-1350 to schedule an appointment with our foot specialist in Steele Creek, NC.
For new patients who would like an evaluative appointment to have an overall checkup of your feet and ankles, we invite you to schedule your Greater Charlotte Foot & Ankle New Patient Exam. Your consultation with Dr. Lu includes a complete physical exam of all podiatry systems such as muscle strength, joints, foot structure, range of motion, arterial & vein systems, wound or rash assessment and a comprehensive skin analysis. 
Come experience Charlotte Foot Care Associates and our 5-star-rated foot specialist in Steele Creek, NC – we can't wait to meet you!
As one of the area's premier podiatry practices in Charlotte, NC, Charlotte Foot Care Associates also provides 5-star-rated foot & ankle care to patients in Steele Creek, Ballantyne & Pineville, NC, as well as Lake Wylie, Fort Mill & Tega Cay, SC.