WOUND FOOT CARE IN STEELE CREEK, NC
5-Star Wound Care Treatment at Charlotte Foot Care Associates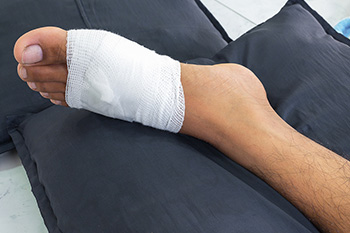 Dr. Lu and her caring, expert podiatric team specialize in foot wound care in Steele Creek, NC. If you or a loved one suffers from any of the following conditions, Charlotte Foot Care Associates can help:
Traumatic wounds
Chronic wounds
Diabetes-related wounds
Heel ulcers
Lower extremity ulcers
At Charlotte Foot Care Associates, we recognize the physical and emotional pain that can arise when you are faced with a debilitating wound. Our goal is threefold when you visit our state-of-the-art podiatry office:
We help you control and manage your pain.
We work to prevent or resolve any infection.
We strive to maintain function in your foot or lower extremity.
While some wounds are simple, many of the foot and ankle are not. Due to the structure of your feet, muscle fibers and ligaments are typically damaged as well and often not diagnosed. Additionally, a general doctor will typically handle the treatment, but then refer out for recovery. At Charlotte Foot Care Associates, your treatment and recovery are our top priorities! When you choose us for your treatment, you will receive unmatched high quality, complete care – that's our promise to you!
Schedule Your Appointment for Wound Foot Care in Steele Creek, NC, Today
Whether your wound is small or large, podiatrist Dr. Lu will employ her extensive knowledge of foot wound care and lower extremity wound care to help you control and resolve your condition. Don't suffer with your foot pain a second longer! Give our office a call at 704-228-1350 or click here to use our convenient online appointment form.
If you are a new patient and would like an evaluative appointment to have an overall checkup of your feet and ankles, we invite you to schedule our our Greater Charlotte Foot & Ankle New Patient Exam. Your consultation with Dr. Lu includes a complete physical exam of all podiatry systems such as muscle strength, joints, foot structure, range of motion, arterial & vein systems, wound or rash assessment and a comprehensive skin analysis.
Come experience Charlotte Foot Care Associates and our 5-star-rated wound foot care in Steele Creek, NC – your foot and ankle health are in great hands!
As one of the area's premier podiatry practices in Charlotte, NC, Charlotte Foot Care Associates also provides 5-star-rated foot & ankle care to patients in Steele Creek, Ballantyne & Pineville, NC, as well as Lake Wylie, Fort Mill & Tega Cay, SC.