BUNION TREATMENT IN CHARLOTTE, NC
Extensive Expertise at Charlotte Foot Care Associates
What Is a Bunion?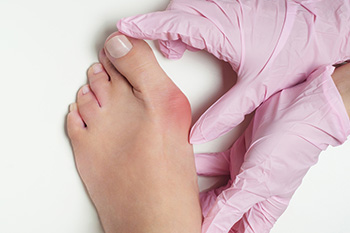 You may have noticed a bony bump protruding from the base of your big toe. A bunion is a structural deformity where the underlying bones are misaligned, and is often an uncomfortable, progressive condition. Bunions bulge out from the side of your foot, and can make wearing your favorite pair of shoes difficult. In some patients, even walking or regular daily activities can become quite painful. Without correction, bunions generally get worse. Luckily, you are in the right place for expert bunion treatment in Charlotte, NC, and our expert podiatry team can help!
Treatment for Bunions
If you are suffering with the pain and inconvenience from a bunion, give Charlotte Foot Care Associates a call today so that we help you start healing. Your symptoms might include pain in the joint, redness, swelling, or discomfort from a callus. According to our podiatrist, bunions are very common – especially for women – but also treatable. Depending on the severity of your bunion, we may recommend one of the following treatment methods:
Resting your feet
Custom orthotics
Wearing shoes with a wide toe box
Icing the affected area
Devices such as a bunion splint
Anti-inflammatory medication
Cortisone injections
Surgical treatment
Will You Need Surgery to Remove the Bunion?
The answer is – it depends. Because there are many ways to fix a bunion, we will review all options with you to determine to the best course. Some bunions cause only minor problems whereas others can be painful as well as unsightly. We usually begin treatment with conservative methods such as appropriate shoes, custom orthotics, and padding to maximize your comfort.
Treating bunions with corrective surgery is reserved for patients who have pain that unresponsive to conservative treatment methods, cannot comfortably wear the shoes of their choice, or for those who have deformities that are progressively worsening. Bunion surgery is performed in an outpatient setting under sedation, and works well for the vast majority of patients. Most people can walk on the affected foot within three days with use of a protective cast or shoe. In addition, the majority of our patients experience surprisingly little pain following surgery.
Schedule Your Evaluation for Bunion Treatment in Charlotte, NC, Today
When you come in to our Charlotte podiatry office, we'll start with a thorough assessment of your feet, including digital X-rays of the affected area. Diagnostic imaging of a classic bunion typically reveals abnormal positioning of the first metatarsal bone, and there can be excess bone growth in that area as well. The large toe is often tilted inward, toward the second toe – in some cases, your two toes can even cross. Because the metatarsal is at the wrong angle, these bony areas jut out from the side of your foot, creating that painful bump.
Once we have a clear picture of what's going on inside your foot, our podiatry team will develop a treatment plan to get you back on your feet quickly. For immediate pain relief, we'll help you select the right footwear and provide pads and cushions to increase your comfort. We may also design orthotic devices to be worn inside your shoes to help stabilize the abnormal shifting of bones and tendons in your foot or feet. If these measures aren't enough to alleviate your pain, scheduling bunion surgery may be your next step.
Are You a New Patient Who Wants a Bunion Evaluated?
We invite you to schedule our Greater Charlotte Foot & Ankle New Patient Exam by calling 704.228.1350 or by clicking here for our online appointment form. After your complete podiatry exam for any foot care issues, we will go over all available options before starting treatment. Come discover our 5-star-rated podiatry care and see why patients say Charlotte Foot Care Associates is #1!
As one of the area's premier podiatry practices in Charlotte, NC, Charlotte Foot Care Associates also provides top-rated foot & ankle care to patients in Steele Creek, Ballantyne & Pineville, NC, as well as Lake Wylie, Fort Mill & Tega Cay, SC.